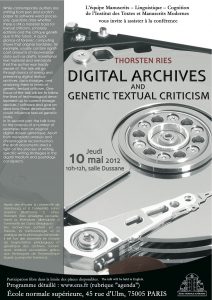 10/05/2012
A l'initiative de l'équipe Manuscrits – Linguistique – Cognition de l'Institut des Textes et Manuscrits Modernes.

While contemporary authors are shifting from pen and scratch paper to software word processors, questions arise whether there is still a material basis for textual criticism, scholarly editions and the critique génétique in the future. A quick glance at forensic computing shows that original harddisks, for example, usually contain significant amounts of recoverable data such as drafts, transitional text material and metadata that the author was hardly aware of. The talk will go through basics of saving and preserving digital textual archives, data storages, and analysing them in terms of genetic textual criticism. One focus of the talk will be to follow the lines of technological development up to current storage devices / software and give an idea how these developments could influence textual genetic study. 
In its second part the talk turns to the analysis of a number of examples from an original digital dossier génétique. Apart from metadata analysis and chronological reconstruction, the draft documents shed a light on the process of writing, specific writing strategies in the digital medium and poetological aspects.
The talk will be held in English.
Contact : Jean-Louis Lebrave Jean-Louis.Lebrave@ens.fr