Séminaire :
Séminaire Multilinguisme, Traduction, Création / 2021-2022
04/03/2022, ENS, 45 rue d'Ulm, 75005 Paris. Salle IHMC. 15h – 17h [SÉANCE REPORTÉE]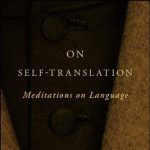 On Self-Translation is a collection of essays and conversations on language in its multifaceted forms. Stavans discusses the way syntax is being restructured by texting and other technologies. He examines how the alphabet itself is being forgotten by the young, how finger snapping has taken on a new meaning, how the use of ellipses has lapsed, and how autocorrect is shaping the way we communicate. In an incisive meditation, he shows how translating one's own work reinvents oneself in another tongue. The volume includes tête-à-têtes with Pulitzer Prize–winner Richard Wilbur and short-fiction master Lydia Davis, as well as dialogues on silence, multilingualism, poetry, and the durability of the classics. Stavans's explorations cover Spanish, English, Hebrew, Yiddish, and the hybrid lexicon of Spanglish. He muses on the meaning of foreignness and on living and dying in different languages. Among his primary concerns are the role and history of dictionaries and the extent to which the authority of language academies is less a reality than a delusion. He concludes with renditions into Spanglish of portions of Hamlet, Don Quixote, and The Little Prince.
—
Ilan Stavans is Lewis-Sebring Professor of Humanities and Latin American and Latino Culture at Amherst College. He has taught courses on a wide array of topics such as Spanglish, Jorge Luis Borges, Shakespeare in prison, modern American poetry, Latin music, Don Quixote, Gabriel García Márquez, Modernismo, popular culture in Hispanic America, world Jewish writers, the cultural history of the Spanish language, Pablo Neruda, the history of the Spanish language, Isaac Bashevis Singer, Sor Juana Inés de la Cruz, Yiddish literature, Jewish-Hispanic relations, cinema, Latin American art, and U.S.-Latino culture.