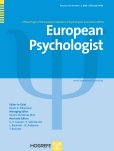 01/04/2010
The Study of Professional Writing
A Joint Contribution from Cognitive Psychology and Genetic Criticism
European Psychologist, Hogrefe Publishing, Volume 15, Number 1 / 2010 , pp12-22.
Acceder à l'article : http://www.psycontent.com/content/33836r2u436j524l/?p=14cdd43a738c400f8b6204f0150deab0&pi=2
Résumé
Dans cet article, nous soutenons que l'éude des processus d'écriture chez des écrivains est susceptible d'enrichir et de compléter les recherches empiriques sur l'écriture menées actuellement dans le cadre de la psychologie cognitive. Dans la plupart des études empiriques sur l'écriture, les experts sont des étudiants avancés ou des auteurs de textes techniques, mais ce ne sont pas des sujets soumis aux mêmes contraintes, notamment temporelles, que les écrivains. Introduire des écrivains dans les études sur l'écriture menées en psychologie en exploitant les observations de la critique génétique enrichirait notre connaissance de l'écriture professionnelle. Deux questions porraient notamment être abordées: (a) comment le processus créateur se déroule pendant l'écriture; (b) quel est le rôle de la mémoire dans la gestion des processus d'écriture pendant des périodes longues.
Abstract
In this article, we argue that examining the writing processes of literary authors would enrich and extend empirical research on writing, which is currently grounded in cognitive psychology. In most empirical studies of writing skills, experts are defined as either advanced students or technical writers, neither of whom work within the same constraints or timeframes as literary authors. Including literary authors in psychological accounts of writing, by drawing on the observations of genetic criticism (a linguistic-literary discipline that reconstructs the genesis of an author's manuscript by collecting and interpreting the notes, drafts, revisions, successive versions, etc.), would add to our knowledge of professional writing. Two issues could then be considered: (a) the way the creative process takes place during writing and (b) the role of memory in the management of writing processes over extended time periods.
Keywords
cognitive psychology, genetic criticism, professional writing, writing processes, creativity