30/05/2023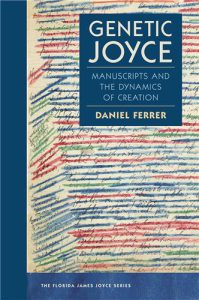 An introduction to the fascinating world of Joyce's manuscripts  
"A remarkably lucid tour of genetic research as both theory and practice, a tour reflecting both how it is done and what riches it offers. With Ferrer's guidance, we develop a clearer picture of Joyce's working synthesis of madness and method."—Tim Conley, author of The Varieties of Joycean Experience  
"A brilliant demonstration of genetic criticism at work by one of its most eminent theoreticians. Written with striking clarity of expression, this book manages—with the help of often beautiful and relevant metaphors—to enthuse readers and encourage them to discover the wealth of information that can be found in Joyce's manuscripts."—Dirk Van Hulle, author of James Joyce's 'Work in Progress': Pre-Book Publications of "Finnegans Wake" Fragments  
This book shows how the creative process of modernist writer James Joyce can be reconstructed from his manuscripts. Daniel Ferrer offers a practical demonstration of the theory of genetic criticism, the study of the manuscript and textual development of a literary text. Using a concrete approach focused on the materiality of Joyce's writing process, Ferrer demonstrates how to recover the process of invention and its internal dynamics.
Using specific, detailed examples, Ferrer analyzes the part played by chance in Joyce's creative process, the spatial dimension of writing, the genesis of the "Sirens" episode, and the transition from Ulysses to Finnegans Wake. The book includes a study of Joyce's mysterious Finnegans Wake notebooks, examining their strange form of intertextuality in light of Joyce's earlier forms of note-taking. Moving beyond the single author perspective, Ferrer contrasts Joyce's notes alluding to Virginia Woolf's criticism of Ulysses with Woolf's own notes on the novel's first episodes.
Throughout this book, Ferrer describes the logic of the creative process as seen in the record left by Joyce in notebooks, drafts, typescripts, proofs, correspondence, early printed versions, and other available documents. Each change detected reveals a movement from one state to another, a new direction, challenging readers to understand the reasons for each movement and to appreciate the wealth of information to be found in Joyce's manuscripts.
Télécharger le sommaire ici.
—
Daniel Ferrer, director of research emeritus at the Institut des Textes et Manuscrits Modernes in Paris, is the author or editor of many books, from Poststructuralist Joyce: Essays from the French and Virginia Woolf and the Madness of Language to Renascent Joyce.
A volume in the Florida James Joyce Series, edited by Sam Slote.
—