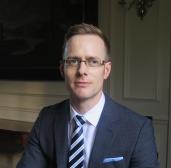 Professeur, Université d'Oxford
Andrew Counter joined New College and the Sub-Faculty of French in 2015, after positions at King's College London (2012-15) and Gonville and Caius College, Cambridge (2009-12), and a Research Fellowship at St John's College, Cambridge (2008-9). He read French and Russian at Christ's College, Cambridge, where he went on to complete his PhD in French. Dr Counter is currently a member of the Executive Committees of the Society for French Studies and the Modern Humanities Research Association.
Teaching
Dr Counter teaches all aspects of nineteenth-century and early twentieth-century French literature on Paper VIII, as well as nineteenth- and some twentieth-century special authors on Paper XI. He also supervises extended essays on nineteenth-century topics. His lectures focus on political, historical and broader cultural contexts of nineteenth-century literature.
Research Interests
Dr Counter's research considers the intersections of law, politics, sexuality and literature in France between the Revolution and the Great War.  His work draws on a broad range of methodologies and considers multiple genres, including literary, legal, medical and political discourse, though he has a particular interest in the novel. His first book, Inheritance in Nineteenth-Century French Culture (Oxford: Legenda, 2010), was an interdisciplinary study of the use made by writers of fiction and non-fiction alike of the narratives, vocabulary and ideology of inheritance and property transmission. His second book, The Amorous Restoration: Love, Sex and Politics in Early Nineteenth-Century France (Oxford: Oxford University Press, 2016), explores the Bourbon Restoration (1814-30) as a period when discourses of love and sexuality provided an important vehicle for political discussion, and especially for the working through of post-revolutionary political resentments.
Dr Counter has been awarded numerous research grants and prizes. He is currently Co-Investigator (with Dr Nick White, University of Cambridge) on an AHRC-funded Research Network entitled 'The Art of Friendship in France, 1789-1914', which brings together scholars in French and French History from Britain, France, Canada and the United States. In Autumn 2014, he won a Bourse de chercheur invité at the Université d'Orléans, and in 2013, he was the recipient of a Philip Leverhulme Prize, awarded to 'outstanding scholars who have made a substantial and recognised contribution to their field'. In 2011, Dr Counter won the Malcolm Bowie Prize for the best article by an early career researcher in French Studies; in 2013, he won the Forum for Modern Language Studies 'Forum' Prize; and in 2015, the French History article prize.
He is eager to hear from prospective graduate students wishing to pursue research on any aspects of nineteenth-century French literature (though especially prose fiction) and cultural history.
Selected Publications
The Amorous Restoration: Love, Sex, and Politics in Early Nineteenth-Century France (Oxford: Oxford University Press, 2016)
Inheritance in Nineteenth-Century French Culture: Wealth, Knowledge and the Family (Oxford: Legenda, 2010)
'Mingrat: Anatomy of a Restoration cause célèbre', French History, 29 (2015), 225-46; winner of the French History article prize 2015
'Always Uncertain: The Presumption of Legitimacy in Two fins de siècle', Law and Literature, 26 (2014), 65-85
'Zola's fin-de-siècle Reproductive Politics', French Studies, 68 (2014), 193-208
'Astolphe de Custine and the querelle d'Olivier: Gossip in Restoration High Society', Forum for Modern Language Studies, 50 (2014), 154-67; winner of the Forum Prize 2013
'La Naissance du duc de Bordeaux, ou la Restauration s'attendrit', Romantisme, 159 (2013), 109-22
'"One of Them": Homosexuality and Anarchism in Wilde and Zola', Comparative Literature, 63 (2011), 345-65; winner of the Malcolm Bowie Prize 2011